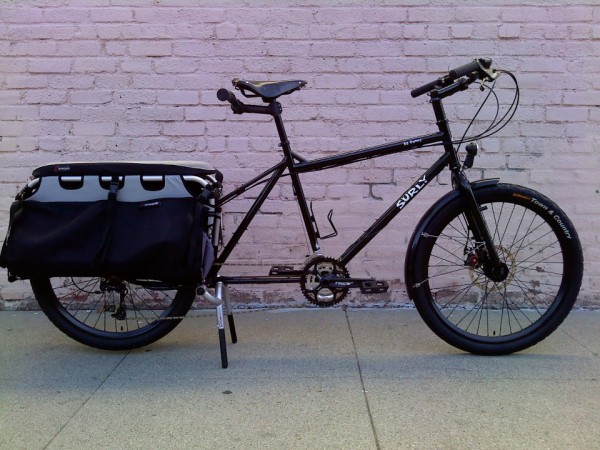 Well, it's been many years in the coming – I strongly considered one before I put together my Xtracycle back in 2008 – but at long last I've upgraded to a Surly Big Dummy. Very, very pleased with the bike, it fits better than my old Kona -based Xtracycle, and the ride is simply magical.
As my kids have gotten older, the flex on the Xtracycle was getting sketchy, and I was starting to get a little concerned about overloading the v-brakes and/or overheating the tubes during extended braking. The Big Dummy with its much, much stiffer frame and 185mm Avid BB-7 disc brakes completely resolves both concerns, and is simply kickass all around.
I went with the complete available through QBP, with a few modifications. The wheelset was swapped out for a Sun MTX-33 to Alfine dynamo (front) and Deore XT (rear). Am running the same Busch & Muller lights from the old Xtracycle (IQ Fly in front and Toplight XS Plus in rear). Swapped the stock handlebar for a Surly Open Bar. The original-style Snapdeck isn't a super tight fit on the Dummy frame (the v-rack stays are slightly further apart) so I'll be upgrading to Xtracycle's Super Hooks and the new zippered Magic Carpet. Added SKS 65mm fenders which cap the 2.1″ Continental Town & Country tires from the stock build very nicely. Beyond that, pretty much bone stock and I couldn't be happier!