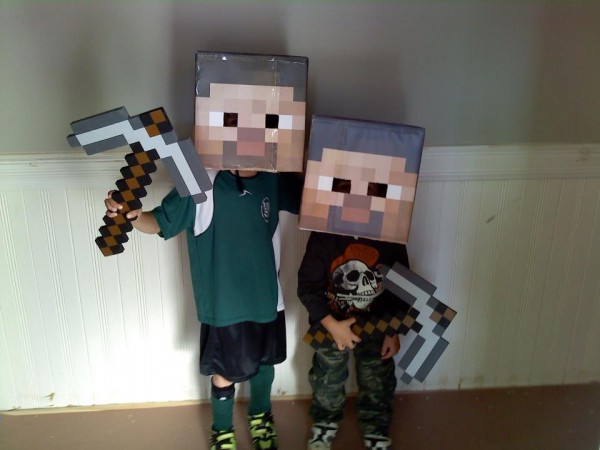 My kids and I are huge fans of Minecraft and my boys decided to dress up like "Steve", the main character, for Halloween. There are commercially available Steve Heads, but they are rather expensive, and making stuff yourself is fun for kids anyways.
So, we went to Kinko's and got some of their 11x11x11 boxes (about $2 each) and I made a couple PDF files from the official char.png file you can download from the Minecraft website. We printed these on 11×17″ paper using Adobe Acrobat to handle page tiling. Note that the 11x11x11 boxes are not actually that size – the real size is 11.5″ wide x 12″ tall x 11.5″ deep. These PDFs are scaled to fit that size, with an extra-large hair part to cover the gap on the edges. We just printed out the files, trimmed, and taped onto the boxes, but you can do a lot fancier if you like.
Here are the files: Minecraft Head Files (ZIP)
Please note the following:
I cannot provide tech support for your printer or computer problems, sorry.
The only files I have are for the Steve head, and are posted above.
I do not have any other files for Minecraft stuff (i.e. Creeper head, sword, pickaxe, etc).
---
Update October 2012: Check out this cool video tutorial on printing your own DIY Minecraft heads using this file!
---
Update October 2013: Man, this page just keeps on trucking. If you're finding it's just too hard to figure out how to print these out, or if you want something besides the basic Steve head, I encourage you to just purchase a pre-made head directly from Amazon. By the time you get done paying for the box and printing, you're not saving that much money making them yourself. How much is your time worth? 🙂